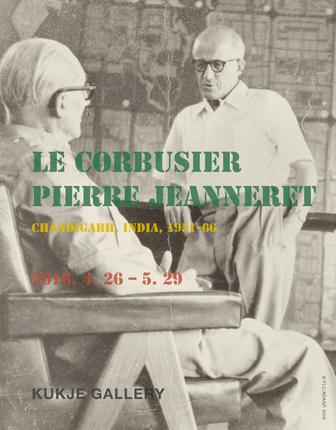 Le Corbusier and Pierre Jeanneret
Chandigarh, India 1951-1966
April 26 - May 29, 2016

Jaewoong Chung is the founder and Director of Vintage20, a Manhattan based design firm specializing in European mid-century furniture and decorative art. Featuring designers such as Jean Prouve, Charlotte Perriand, and Serge Mouille, as well as the American woodworker George Nakashima, Vintage20 was founded in 2005. Under Chung's vision Vintage20 has established a critically acclaimed program that mixes museum quality exhibitions with eclectic and unique works from the twentieth century's most innovative designers. Often pairing fine art with design, Chung has organized numerous exhibitions that provide both superlative works with compelling and well-researched historical frameworks. These include an acclaimed exhibition combining the work of Alexander Calder and George Nakashima. In addition to mounting shows in New York, Vintage20 organizes annual exhibitions at Kukje Gallery in Seoul, Korea—one of Korea's biggest and most respected commercial galleries. In 2005, Mr. Chung, organized the first exhibition of Jean Prouve in Korea. Other notable exhibitions include exhibitions focusing on Charlotte Perriand (co-curated with Francois Laffanour) and Jean Royere, as well as exhibitions introducing the work of Joris Laarman, Karim Rashid and others. In 2014, Chung organized a celebrated exhibition of Alexander Calder jewelry along with the Calder Foundation and in 2010 he mounted a curated show devoted to Art Deco masterpieces.


Vintage 20 is proud of its commitment to the finest examples of mid-century design. A student of both art and design Jae Chung continues to curate the very best examples of both, showcasing the way imagination, materials and engineering work together to create modern masterworks. Chung lives in New York City with his wife, gallerist Tina Kim and his two children.